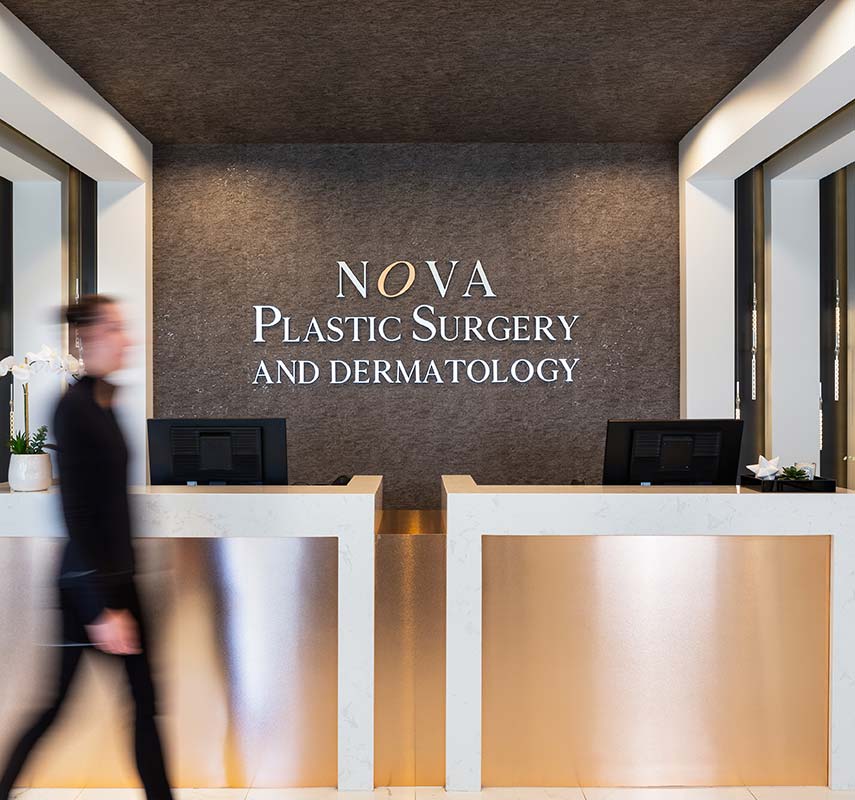 Experts at Making Clients Happy Through Experience and Results
Please browse through our many happy clients' reviews. Feel free to read more reviews on Yelp and Google.
---
Schedule a Consultation
Blepharoplasty (Eyelid Lift) By Dr. Zahir
I highly recommend NOVA Plastic Surgery! The staff has been very helpful and friendly from the start. I had a lower blepharoplasty procedure done recently by Dr. Zahir and I'm so happy with the results so far. I had little to no bruising and it's only been 4 days so far. Other places told me I'll be out for 2-3weeks with expected bruising but I think I'll be fine by the end of the week. I'm so glad I found this place instead. Dr. Zahir was very knowledgeable during the consultation and quick and comforting during the procedure. The staff was great as well. Jenn has also been very helpful with questions before the procedure and has checked on me several times after the procedure. I felt like I've been in great hands with this team. I'll definitely use them again for other treatments.
Thelma G.
---
Abdominoplasty (Tummy Tuck) By Dr. Zahir
I had a modified abdominoplasty to correct diastasis recti and umbilical hernia. Dr. Zahir confident and knowledgeable. He was an excellent surgeon and made me feel comfortable right away. They took great care of me at every visit and explained everything thoroughly. Jenn was so supportive and always available for follow up questions and concerns. I am so happy that I chose NOVA plastic surgery!
Kathleen N.
---
Botox/PRP and Fillers By Michele Gittings, PA-C
Five Stars. I have been seeing Michele for years, have had Botox/ PRP Facial and fillers (Various). She is exceptional!! I have already sent six of my friends to her and they all feel the same –she is the BEST!
Sandra L.
---
I have very troubled 43 yr old, post-menopausal skin that the team is helping me overcome. They really listen and give multiple ways to address my issues. Kind and professional with incredible quality…Thank you.
Mary Karen M.
---
First visit and an absolutely superb experience. Great staff & service. Very nice facility. The doctor seemed unhurried and really interested in my trauma case. Got great advice and clear answers to my questions. Just a superb experience.
Brice Z.
---
Dr. Nukta was very kind and compassionate when treating my son for his hand injury. We would definitely recommend him to friends.
Melissa C.
---
I had wanted a nose job ever since I was old enough to notice others did not see me as I saw me. That was around puberty. I was skinny and tan with the nose of an Aztec Warrior. After high school, college, and finding my career I revisited this want I had which hadn't gone away. After google stalking every plastic surgeon in the northern VA area, reading the good and bad reviews, looking through countless before/after photos, and crossing off almost every name on my list one surgeon's impressive resume of surgical training and own personal experience with plastic surgery as a child stood out. I scheduled a consultation with Dr. Nukta at his Ashburn location in December. The office was easy to get to and his staff was very friendly. Dr. Nukta was professional and yet sincere in listening to why I wanted my nose fixed and what I wanted done. I was so pleased with the visit I scheduled my surgery and paid the deposit on the spot. The next visit was to go over the specifics of the rhinoplasty procedure, risks, worries, requests, and answering of any other questions. I had my surgery in February with minimal bruising. I have an aversion to blood and needles that they were very patient about during my follow up visits. They all have been just so caring and made my surgery experience very easy and comfortable. The first month I could not wait for the swelling to go down, and now that it has my results are beautiful.
Andrea
---
Dog Bite Repair By Dr. Nukta
While playing on a playground this summer, our 5-year old son was attacked by a dog and had much of his left ear severed. It was unprovoked and happened so fast – a parent's worst nightmare. We were taken to the ER by ambulance where we were so lucky to be put into the amazing care of Dr. Nukta. Throughout numerous surgeries and office visits, Dr. Nukta and Jenn have provided us not only with the very best medical care, but with a level of caring and compassion that we have never experienced with any other medical provider. They have answered every question we have ever had, addressed all of our fears and concerns, and been available night and day for anything we needed. They have gone to tremendous lengths to help make the recovery as easy as possible for our son and always do special things to keep a smile on his face. This whole experience has not been easy for any of us, but a silver lining has been Dr. Nukta and Jenn. We will be forever grateful for them and all they have done, and continue to do, for us and their support of our resilient and amazing little guy.
Bill and Kate
---
Mommy Makeover By Dr. Nukta
After having two babies and achieving a 50lb weight loss all in a matter of 3 years i felt that some "fine tuning" was needed in order for me to feel great about myself again. I came to the NOVA Plastic Surgery office by accident when a friend of mine made a mistake in recommending what she thought was her doctor's office and it turned out to be an amazing mistake as far as I am concerned. From the very first visit i felt super comfortable and ready. Dr. Nukta was the very first plastic surgeon I visited and i knew right away I didn't need to look any further. I went in for a Mommy Makeover consultation which was to include an abdominoplasty and a breast augmentation. I initially considered a buttock lift, which Dr. Nukta advised me was not a necessary procedure (I was very impressed by that suggestion because it let me know he was not willing to do a procedure just to take my money if he did not feel it was something i needed).
Dr. Nukta is extremely knowledgeable and was very focused on making sure that I was aware of everything I was "signing up" for. From the very beginning he and his staff were always available to answer questions and extremely flexible in accommodating me when making appointments. Before and after surgery the attention I received was absolutely outstanding.
I am now 5 weeks post surgery and along with the professionalism and warm interaction I have received from the NOVA Plastic Surgery staff, Dr. Nukta's work is absolutely spectacular. I could not be more happy with the results. I can truly say that I can now look in the mirror and be completely satisfied with what I see.
Ever since the surgery any time I sent an e-mail to Dr. Nukta's office Jessica was extremely quick to answer to put my worries and or concerns at ease. It has been extremely comforting to know that they truly care about their patience. Even though I arrived at NOVA Plastic Surgery by mistake I would recommend them to anyone and everyone looking for an excellent plastic surgeon. From the professionalism of the staff to the outstanding results of the surgery I can truly say I had the best experience anyone could ever ask for. Thank you Dr. Nukta and Staff, for EVERYTHING!
Akville
---
Tummy Tuck and Liposuction By Dr. Nukta
My fiancé and I were very happy with Dr. Nukta from the first time we met him. His caring staff especially Jessica allowed us to feel right at home. He explained the procedure in detail and I was very satisfied with his explanation of the tummy tuck and liposuction process. After interviewing other doctors for a second opinion, we did not feel the comfort level we experienced with Dr. Nukta.
We felt like we were next in line at the grocery store with them. Dr. Nutka and staff were very caring, understanding, and compassionate. Without further hesitation my fiancé and I decided to have him do my procedure. I was afraid but now very happy to do the procedure after 10 years of researching and talking about it. I'm super happy with my body and the results of the procedure. My fiancé can't keep his hands off of me. I am most satisfied with all the great care I received from Dr. Nutka and his fantastic staff. I would definitely recommend him to my family and friends.
Dr. Nukta you are the best.
Sandra
---
Breast Augmentation By Dr. Nukta
Up until a couple of years ago, breast augmentation surgery was something I had never even considered. Even though my breasts were always small, I was quite happy with them and augmentation was just not something I thought was for me. However, after being pregnant with and nursing two children, at age 27 I finally decided to take that big step I had been considering for a couple of years.
It started when a good friend of mine shared with me that she had a surgery date scheduled for this procedure. At that moment, I thought, "I have been wanting this for a long time myself…" and began to do research. There are many great plastic surgeons in Philadelphia, and the surrounding counties, with excellent reputations. I met with a surgeon a few days later, and walking out of his office, I just did not feel comfortable. I felt I was being pushed and swayed in a direction that I did not want to go. From the very beginning I knew that I did not want a dramatic change. I simply wanted to gain back the volume that I had lost from gaining and losing weight, and nursing at the same time.
My friend, who was getting the same procedure, seemed very happy and very comfortable with her surgeon, so I asked her for his information. That is when I was referred to Dr. Fadi Nukta. From the moment I met him, I knew right away that I was in good hands! I am the type of person who still likes to shop around, but upon meeting with Dr. Nukta, I immediately scheduled my surgery! I felt very comfortable with him. He did not try to sway me in any direction, he knew exactly what I wanted and followed specific guidelines to ensure that the look I wanted would be achieved. The thing that made me most comfortable was him saying that we would not go into surgery until him and We were both on the same page. That made me feel very relieved.
The staff in the office was exceptionally nice! They were so kind and patient and provided fast answers to all of my questions and concerns. I had a lot of anxiety leading up to my surgery, and there were times when I contacted the staff several times a day! Again, they were always patient and very helpful. They were very accommodating as far as getting me into appointments so that travel could be cut down. This was very helpful because, with two kids, I don't have many opportunities to travel. They made it very easy and convenient for me.
Before my surgery, I was very nervous and scared. I really appreciated Dr. Nukta's positive mood when seeing me before surgery. It made me feel confident that he was confident. My surgery went very well, and very smoothly. I actually felt fine coming out of surgery! I was a little loopy and tired, but a couple hours later felt completely normal. When I finally saw my breasts after the surgery, I could not believe my eyes! I was told to expect them to look slightly off at first, and that with time they would get better. They looked great right away! They looked just like the photo I had brought in to my pre-op appointment!
Since my surgery, Dr. Nukta and his staff continue to be very helpful in answering any questions or concerns that I may have. I could not be happier with the surgeon that I chose. He achieved exactly what I had asked for, and I could not have imagined a better outcome! All my friends compliment me and tell me how natural they look and always say what a great job the surgeon did. I have been recommending Dr. Nukta to all of my friends, and I highly recommend him to anybody considering breast augmentation!
Anna
---
Breast Reduction By Dr. Nukta
All my life I have been struggling with large breasts. It wasn't until the past couple of years that I have had some serious problems because of their large size. I was having numerous migraines, back pain, and neck pain. That was when I decided to pursue information on breast reductions. My PCP informed me that I was a candidate. I was really putting my body in jeopardy with the extra weight my breasts were giving me. That was when I was introduced to Dr. Fadi Nukta. He was my savior!
The first time I walked into Dr. Nukta's office I felt so nervous until his assistant and himself walked in. Instantly I felt at ease. He was so caring and sensitive to my needs and embarrassments. Dr. Nukta listened to all my concerns and wishes. He was so professional. I had my exam done and we talked about how the procedure was going to be and the outcomes. He also informed me of all the necessary things I needed to do before surgery so I would lower my risk of complications.
The day I walked into the hospital for my surgery, I was so nervous I could barely stand. He came over to me and reassured me that everything was going to be ok. I really believed that through the sincerity of his voice. I knew everything was going to be wonderful. And it was!!
After having my surgery, I would recommend this to everyone! Dr. Nukta not only made me feel confident again, he also made my pain (physically and emotionally) go away. He is amazing. I just had my six month post-op check up and couldn't be happier. Dr. Nukta gave me a new outlook on my life. Thank you so much Dr. Nukta!
Katie
---
Hand Surgery For A Pianist By Dr. Nukta
"As a piano player all my life, facing hand surgery was a scary option for me. Would this impede my ability to play again? Dr. Nukta, eased my mind right from the beginning, offering several options. Later, after determining that basal arthroscopic surgery was what was needed, when I e-mailed him with several questions, he took the time to reply himself and provide thorough answers.
I found his very personable manner to be both professional and knowledgeable. Weeks after the surgery I went to the clinic for a cast appointment. Although I didn't have an appointment with him, Dr. Nukta left his office to come and check on my progress personally. As I am closing in on the end of my therapy to regain mobility and strength I've no doubt that I'll be making beautiful music with my hands once again! I would recommend Dr. Nukta to any of my family and friends!
Lorinda
---
Hand Surgery By Dr. Nukta
Thank you!!!!! Earlier this year I received what can only be called a miracle. All the tendons in my right hand were severed after a car accident in which my hand went through the windshield. I could not move three of my fingers….. particularly devistating as I play piano and guitar. Dr. Nukta surgically attached my tendons….. and all under a local anethetic as I was recovering from a concussion. By April I was playing a few notes and now I am back at full skill. You are amazing! Skilled, informative, nuturing and brilliant. Thank you to all at your practice….. I am deeply grateful.
Whitney
---