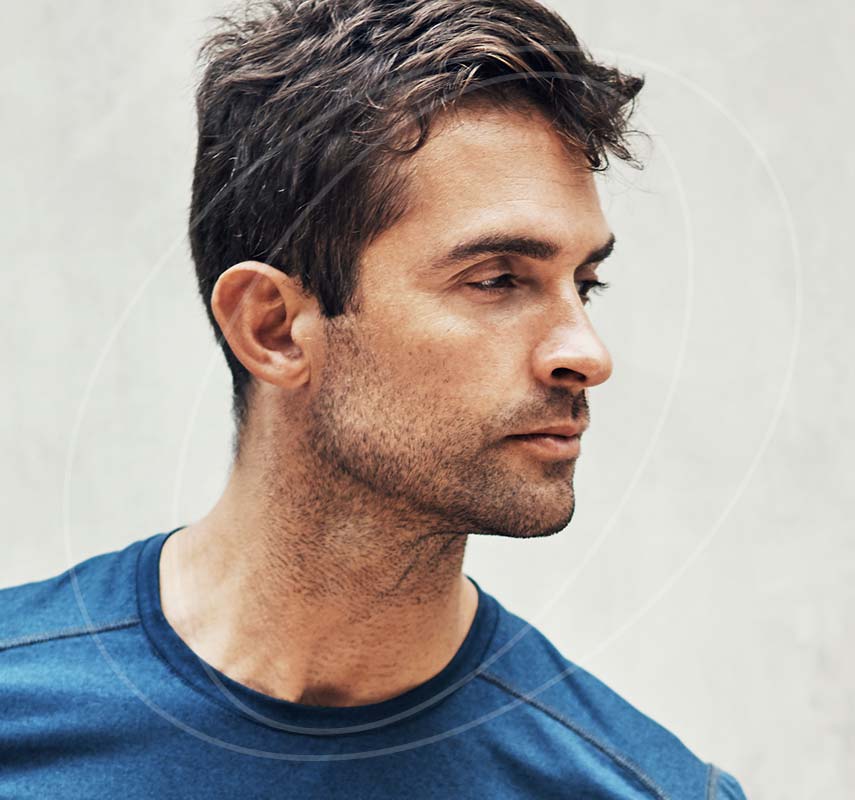 Hair Loss Clinic
in Northern VA
---
Looking for a solution to hair loss? Welcome to NOVA Hair Loss Clinic — the premiere hair treatment center in Loudoun County. As a division of NOVA Plastic Surgery, the NOVA Hair Loss Clinic's goal is to compile comprehensive, effective hair treatment plans for clients currently experiencing hair loss or thinning.
Schedule a Consultation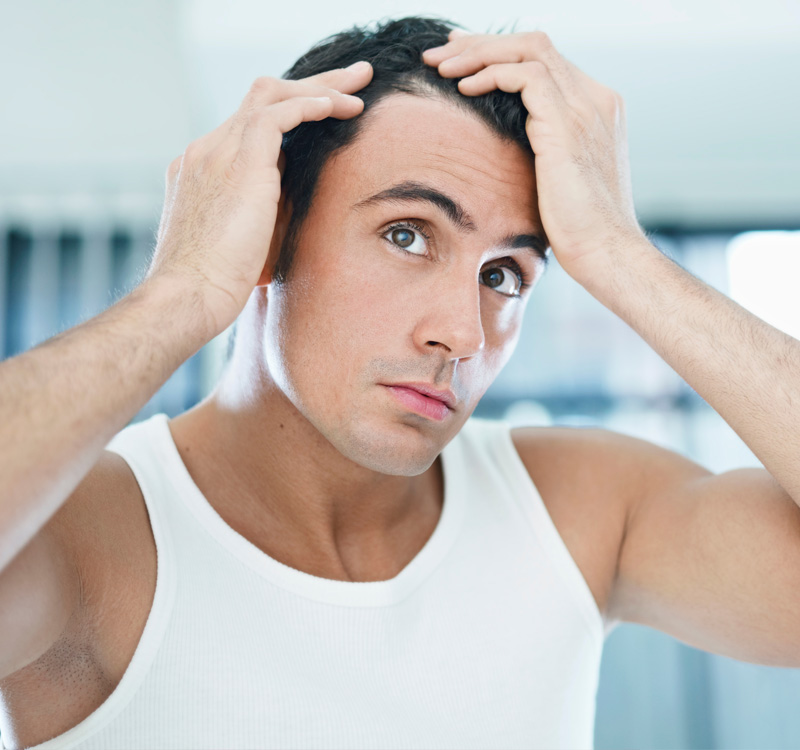 Thinning Hair Is Inevitable, But You Don't Have to Accept It
The appearance and thickness of your hair are important to you. It is one of the first things people see, and healthy hair suggests overall well-being, vitality, and youthfulness.
A healthy head of hair can be part of a confident and aesthetically pleasing appearance, which is why hair loss can have devastating effects on one's self-esteem and quality of life. Hair loss due to genetics, the natural aging process, certain medical conditions, or some drug protocols can make men and women feel less confident than before.
Fortunately, the NOVA Hair Loss Clinic offers several solutions. Our Hair Loss Clinic focuses on you, the client, to develop your personalized treatment plan. We consider the cause and current extent of your hair loss, and we evaluate your goals to determine the best treatment options so you can look and feel your very best every day.
Hair Loss Evaluations
BEFORE WE CAN APPROPRIATELY DETERMINE YOUR TREATMENT, WE MUST DETERMINE THE ROOT CAUSE OF YOUR HAIR LOSS.
Men and women can start experiencing thinning hair or more extensive hair loss at any age. While some patients are genetically predisposed to hair loss, others see changes after life events such as pregnancy, weight loss, medical treatments, and lifestyle concerns like stress and poor diet.
Because the cause and type of hair loss vary for each patient, we believe your treatment plan needs to be personalized as well.
Our thorough evaluations includes a hair analysis using the Hair Metrix technology which allows us to determine the progression of hair loss, how to best treat your needs and also to evaluate the success of future treatment.
Learn More
---
PRP Injections for Hair Loss
HAIR LOSS CAN BE LIFE-ALTERING. PRP INJECTIONS CAN HELP.
Plasma-rich platelet (PRP) therapy is an innovative, game-changing technology that utilizes your own blood cells. PRP is a derivative of your blood that contains a high volume of growth factors.
This amazing substance is created by placing the patient's blood into a centrifuge to purify and concentrate it. In the case of hair loss, PRP is injected into areas of the scalp where thinning hair is present to help reawaken dormant hair follicles and make the hair thicker and fuller.
Learn More
---
NeoGraft®
LOOKING FOR A LESS INVASIVE HAIR TRANSPLANT PROCEDURE? NEOGRAFT® IS HERE.
NeoGraft® utilizes a state-of-the-art medical device to remove healthy hair follicles and relocate them to areas of hair loss. This procedure is minimally invasive unlike some other transplant systems and leaves no visible scarring. There is very little downtime and is performed on an outpatient basis. The results are life changing and no one will ever know you had a hair transplant.
Learn More
---
Dermatology for Hair Loss
CONDITIONS THAT AFFECT YOUR SCALP CAN CONTRIBUTE TO HAIR LOSS.
Dermatology is an important component in addressing issues that lead to hair loss.
A dermatological evaluation for hair loss may include assessing hairstyles (for example, pulling the hair tightly can contribute to traction alopecia), dry scalp issues, male or female hormonal fluctuations, and non-scarring types of alopecia, such as postpartum hair loss.
---
There are many types of hair loss and they can all be a great source of stress for someone.
Stress also happens to make most types of hair loss worse. The two main categories of hair loss (alopecia) are non-scarring and scarring alopecia. There are many different causes for hair loss so a thorough evaluation by a dermatology specialist is essential. We have multiple approaches to help you improve your hair loss.
---
Nutrafol
OUR LINE OF SUPPLEMENTS AND PRODUCTS ARE A HAIR REGROWTH GAME-CHANGER.
Nutrafol is a collection of proven supplements, nutraceuticals, and topical treatments that target the root cause of hair loss.
This drug-free protocol has been shown to help increase the amount of hair and improve the thickness in many men and women. It does this by targeting stress, DHT, free radicals, microinflammation, and other factors contributing to hair loss.
Nutrafol's series of popular hair regrowth applications include:
Nutrafol for Men Supplements
Nutrafol for Women Supplements
Nutrafol Stress Reliever
Nutrafol Growth Activator
And more
Learn More
---
InnerGlow Hair, Skin, and Nails Formula
A COMBINATION OF 21 BUILDING BLOCKS THAT HELP GROW STRONG, HEALTHY HAIR.
InnerGlow Hair, Skin, and Nails Formula combines natural ingredients that have been proven to grow hair healthier and stronger. This powerful blend includes:
Saw Palmetto to regulate hormonal causes of hair loss
Ashwagandha to help stress related shed
Collagen to give your hair shine
Moringa leaf to help thicken the hair
Learn More
---