Posted March 16, 2020 in
Face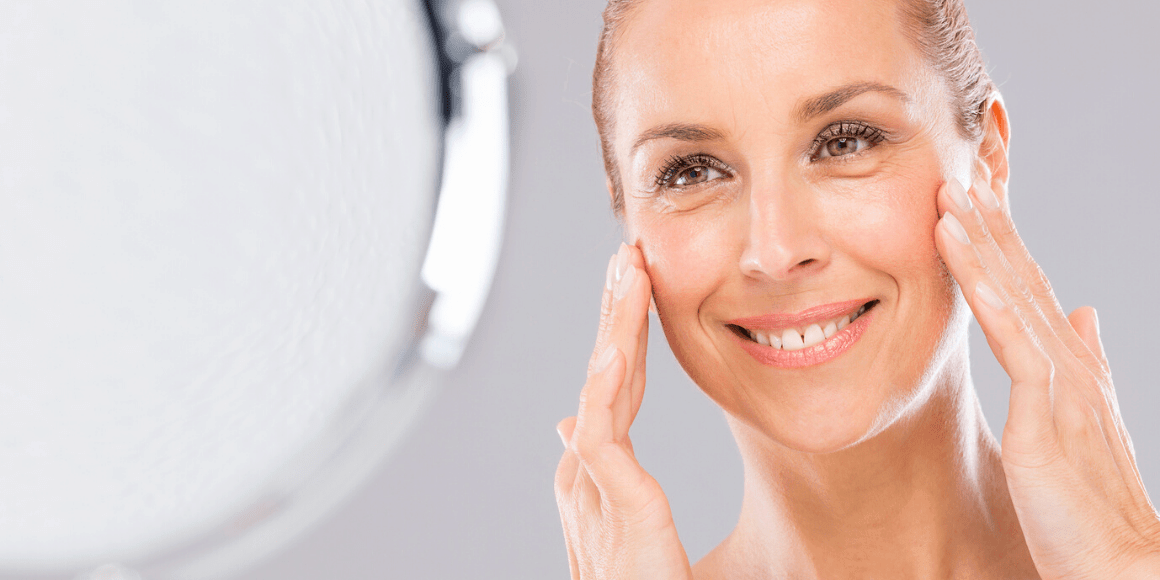 We all age. It is an inescapable, inevitable reality of life. But just because aging is normal it doesn't mean that you have to deal with the effects that time may have on your face and looks. We offer several treatments at MedSpa that combat the effects of aging so that you not only look better, you feel better too.

This MedSpa in Northern Virginia has the treatments to help you regain a more youthful appearance.
Blepharoplasty
A surgical procedure that involves the removal of excess skin of the upper eyelids or lower eyelids, or both. Displaced fatty tissue and drooping muscles may also be removed.
The results can last up to several years, but that time may be decreased due to lifestyle habits such as smoking and tanning. The recovery time can take up to four weeks.
Treats: Droopy Eyelids
Botox Brow Lift
A neuromodulator is injected into the brow area. This helps to minimize the appearance of droopy eyelids by lifting and plumping them.
This is a minimally invasive treatment that has a very short recovery period of a few hours to a day or so. There are also very few potential side effects.
Results are noted fairly immediately.
Treats: Droopy Eyelids, lowered brow
Dermal Fillers
Synthetic hyaluronic acid is injected into the target area just under the epidermis to plump and fill so that wrinkles are reduced, and volume is restored. It also attracts water to that hydration of the skin is enhanced.
Recovery is minimal, lasting about three days. The results can last up to 17 months.
Treats: Fine Lines, Wrinkles, Droopy Eyelids, Sagging Jawline
Microneedling
The skin is subjected to a series of micro injuries within a controlled environment. This encourages the production of elastin and collagen which can help minimize the appearance of wrinkles and fine lines.
The initial treatment is usually full face. Follow up treatments target problem areas and are administered as needed. It can take from one week to several months to see the full results.
Treats: Frown Lines, Forehead Wrinkles, Droopy Eyelids
Neuromodulators
You probably already know about the Clostridium botulinum injection Botox, but there are also two other neuromodulators, Xeomin and Dysport, that are used as well. All of these cause the facial muscles to relax, smoothing fine lines and wrinkles.
The injections are minimally invasive, and the overall treatment is fairly quick. It can take up to 10 days to see the full results.
Treats: Frown Lines and Forehead Wrinkles
Profractional Laser Treatment
This is a laser treatment that uses organic solutions to encourage the production of collagen in the skin. Wrinkles and fine lines are smoothed out.
This treatment is often combined with other treatments such as fillers or Botox for more effective long term and short-term results.
Skin is often red and tender post-treatment and it can take up to 4 days for the redness to subside. Within days most patients notice a marked improvement which continues for up to six months.
Treats: Frown Lines, Forehead Wrinkles, skin discoloration, collagen depletion, skin tone, scars
PRP Facial Rejuvenation
Blood is drawn from the patient and it is processed in a centrifuge until it has a layer of platelets, plasma rich cells, and growth factors. This substance is isolated, extracted, and injected into the skin. Very fine needles are used so discomfort is minimal. There are also several other measures that are taken to reduce patient discomfort.
This stimulates natural collagen production in the body while in turn smooths out fine lines, minimizes wrinkles, and plumps lips and other areas that have experienced a decrease in volume.
Patients typically undergo a treatment every eight weeks for two or three treatments total. The results are not immediate. It can take several months for the regeneration of collagen, but many patients seen an improvement within the first month following treatment.
The results are long term. Usually patients will get a touch up treatment annually to continue stimulating collagen production.
Treats: Sagging Skin
MedSpa Treatments for Every Phase of Your Life
You don't have to be middle age to experience the effects of aging. Some people begin to see fine lines and wrinkles in their 20s. Stress can also play a part in how quickly your skin and body age.
You can combat these effects by getting plenty of good quality sleep, staying hydrated, exercising regularly, eating a healthy diet, and learning effective stress management techniques. But if that isn't enough, we're always here.
If you are looking for treatments to help you look younger, contact your local MedSpa and find out what we can do for you. It is am important part of being good to yourself. Minimizing the effects of aging can help you not only look better; it can help you feel better.
Isn't it time you put your best face forward? Schedule your consultation today!