Posted January 22, 2020 in
News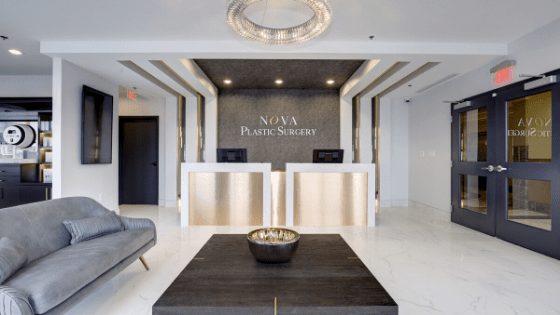 When it comes to beauty, the truth is it really does reside in the eyes of the beholder. And if there is something you don't particularly like when you look in the mirror there is usually a treatment that you can do to make it better. Whether you have a skin condition like rosacea or acne, or you just want to refresh and brighten your aging skin, we have the solutions that bring out your best you.
These are the top beauty treatments in Northern Virginia. Which would you like to schedule?
Broadband/BB Light Therapy
This non-invasive laser treatment is effective in helping to heal a number of skin conditions. It can be used on the skin on almost any part of the body but is typically performed on the face, hands, chest, and neck.
Broadband light (BBL) therapy uses pulses of light to reduce melanin, stimulate the production of collagen, and diminish small blood vessels. Some of the more common conditions BBL treats include:
Sun damage
Effects of aging
Hereditary skin disorders
Acne
Age spots
Rosacea
Vascular lesions
The procedure is quick with little very little to no discomfort. The entire process is around 20 minutes. It begins with warm gel applied to the area that is to be treated. Once the device has been properly set for the patient's specific needs, it is passed over the skin. Typically, you will feel warmth in the treated area and many patients report that it feels like a quick rubber band snap.
One benefit that many people enjoy is that it provides almost immediate results. There may be some minor swelling, redness, or burning, much like a mild sunburn which can last a few hours or a few days. This is mainly dependent upon the area treated as well as the patient's own physiology. Women can even wear makeup as soon as the procedure is complete. However, extra precautions should be taken with sun exposure.
Some people achieve the desired results with just one treatment while others may require several.
Hydrafacial MD Deep Cleansing Treatment
There are a lot of skin hazards out there and no part of your body is more vulnerable to the effects than your face. The skin on your face gets exposed to it all: UV rays, smoke, pollution, and wind. Then there is also what you eat and, for many women, makeup and skin products. Over the course of your lifetime, your skin gets a lot of wear and tear.
HydraFacial MD deep cleans your skin, going much deeper than skin cleansers and even many facials. It uses the Vortex-Fusion serum delivery system to clean, exfoliate, extract and remove impurities, and replenish vital nutrients, leaving your skin smoother and healthier – and the glow you will have will show it.
This treatment utilizes several natural nutrients which include:
Algae extract
Arnica flower extract
Earth mineral peptides
Glycolic acid
Green tea extract
Honey extract
Horse chestnut seed
Hyaluronic acid
Lactic acid
Salicylic acid
Spirea ulmaria flower extract
Yeast extract
A single treatment usually takes from 10 minutes to an hour and is completely painless. There may be some minor redness afterward but is gone within a couple of hours. The results are evident immediately, but complete results are seen within a few days. It is also safe enough that it can be performed every week if desired.
At NOVA Plastic Surgery, we offer 3 levels of the HydraFacial treatment: Signature HydraFacial, Deluxe HydraFacial, and Ultimate HydraFacial.
Breast Augmentation
This beauty treatment is more invasive than the others but is probably one of the better known procedures. During breast augmentation surgery the doctor inserts saline or silicone breast implants to enhance the breasts. While increasing the breast size is certainly one of the reasons a woman may want the surgery, it is not the only reason. Other reasons include:
Reshape the breasts
Restore breast volume that may have been lost due to weight loss, breastfeeding, or pregnancy
Reconstruct a breast or breasts lost to a mastectomy
Make breasts more symmetrical
Immediately after surgery, you may feel some pain and a little woozy from the anesthesia, but it typically passes quickly. Most patients do experience some bruising, swelling, and mild bleeding which are all normal. Post surgery, the patient can resume normal activities with a "light duty" restriction within 7 to 10 days. More strenuous activity can be resumed within 4 to 6 weeks.
Botox Cosmetic
Botox is a non-surgical, minimally invasive treatment for wrinkles and fine lines such as crow's feet and forehead wrinkles. The treatment consists of several injections of Clostridium botulinum, the bacteria that is responsible for botulism, but in much smaller (and safer) amounts.
The Botox treatment is quick, simple, and virtually painless. You can resume normal activities immediately after because there is no downtime and it does not require anesthesia. The doctor injects the medication into "target muscles" using a very fine, small hypodermic needle. There may be some sensation such as a tiny stick, but it fades quickly.
Results can be seen within 3 to 7 days.
When you are ready to schedule one of these top beauty treatments in Northern Virginia, look no farther than NOVA Plastic Surgery. Our knowledgeable, specially trained staff is ready to help you discover your best you. Call today to schedule an appointment for one of these services.