Posted July 21, 2014 in
News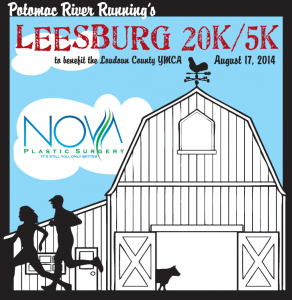 NOVA Plastic Surgery has partnered with Potomac River Running to sponsor the 26th annual NOVA Plastic Surgery Leesburg 5K/20K presented by Harris Teeter! Join us on Sunday, August 17 for a beautiful scenic run through historical Leesburg. There will be a 20K, a 5K, as well as a kids fun run and loads of activities and giveaways before, during, and after the races!
The races will start at Market Station at 203 Harrison St SE in Leesburg, Virginia. In order to beat the August heat, the race times are early. The 20K will start at 7:30 am, the 5K starts at 7:45 am, and the kids fun run starts at 7:50 am. Registration begins at 6:30 am at Market Station.
Joining the NOVA Plastic Surgery Team
When registering for the 5K or 20K, if you choose to sign up on Team NOVA Plastic Surgery you will be running for the chance to win awesome prizes from us! We will have prizes for the male and female winners of the 20K and 5K on our team. All members of Team NOVA Plastic Surgery will also receive a team shirt to wear on the day of the race.
If youd like to join Team NOVA Plastic Surgery, you can also receive 10% off your entry fee by using the code 10NOVAPS14. Just enter it at the end of your registration to get your discount.
Other Race Details
For the kids fun run, there is no registration required. Just bring your kids to the race and they can run! All runners in the fun run will receive medals when the cross the finish line. All pre-registered runners will receive a 2014 NOVA Plastic Surgery 5K/20K presented by Harris Teeter Dri-Fit T-Shirt. All runners in the 20K will receive a finishers medal.
At NOVA Plastic Surgery, we encourage the participation in events that benefit the health and wellness of our patients. We are excited to be partnered for this event to encourage individuals to make running or walking a part of their fitness routine. This race is being held to support important local youth programs organized by the YMCA of Loudoun County so come out to support this wonderful cause!
For more information and to register for the NOVA Plastic Surgery Leesburg 20K/5K presented by Harris Teeter, go to http://www.prraces.com/leesburg20k/.