Posted August 11, 2014 in
News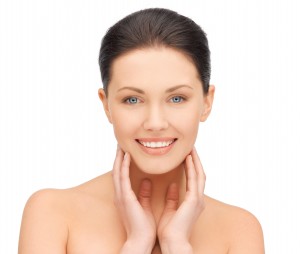 If you want a youthful boost to your complexion without undergoing cosmetic surgery, nonsurgical facial rejuvenation may be the way to go. Instead of undergoing a surgical procedure like a facelift or a mini facelift, you can consider treatments like Botox, cosmetic fillers, and laser to refresh and rejuvenate tired, aging skin.
Botox
Botox is a popular nonsurgical injectable that will temporarily reduce or completely eliminate frown lines, creases, crows feet, and laugh lines. For many adults looking to enhance their appearance, Botox is a logical choice to smooth and plump fine lines and deeper wrinkles that have accumulated over time.
Specifically, Botox targets expression lines caused by repetitive squinting, frowning, and smiling. These expression lines can often make you appear older than your age. Botulism toxin type A and type B are pure, bacteria-derived substances that are injected into the face to block muscular nerve signals. This will temporarily reduce muscle contractions to smooth unwanted facial expression lines.
Dermal Fillers
Similar to a Botox injectable, a dermal filler will help to plump and restore fullness to sagging, aging skin. If youre embarrassed by deep creases and wrinkles in your complexion, dermal fillers could be the right choice for you. Dermal fillers are often referred to as liquid facelifts since they offer similar results to a traditional facelift without having to undergo surgery.
Although dermal fillers arent ideal for excessively saggy skin, the fillers can be used to plump and firm tired skin at a much lower cost than a surgical treatment. The only disadvantage of both dermal fillers and Botox is that they are not permanent, so the patient must be willing to maintain the results over the long term.
Skin Resurfacing
To improve the texture and appearance of your skin, skin resurfacing or skin rejuvenation can refresh your complexion with the use of laser or light energy treatments. Skin rejuvenation is different from Botox and dermal fillers because it treats the surface of your skin to improve texture and clarity.
Skin rejuvenation can be used to treat visible wrinkles, deep expression lines, and even hyperpigmentation caused by long-term sun exposure. Skin rejuvenation can also be used to lighten and heal acne scarring and discolorations. For the many adults that are embarrassed by visible blood vessels on the surface of their skin, skin rejuvenation can alleviate this obvious redness that causes the skin to appear flushed.
Last but not least, skin rejuvenation can be used to boost collagen production in aging skin to visibly eliminate sagging and wrinkling. Skin rejuvenation is ideal for men and women in good health who are non-smokers and have realistic goals for their course of treatment.
Depending on your unique skin concerns, one or all of the above non-surgical treatments could be right for you. Botox and dermal fillers are often used together to smooth expression lines and plump sagging skin for obvious refreshment to aging skin. For surface damage to the skin, like discolorations and scarring, skin rejuvenation can be used to clarify and heal the complexion.
If youre interested in coming into our Northern Virginia plastic surgery practice for a consultation, call (703) 574-2588 or click here to set up a consultation.