Posted February 20, 2017 in
Body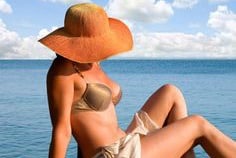 When you think of "mature but still has got it going on", Christie Brinkley, the 63-year-old mother and model immediately comes to mind.
Brinkley has been the spokesperson for Cover Girl and has graced the cover of Sports Illustrated Swim Suit Edition over the years, including just recently posing for the most recent edition with her two daughters.  How does she stay looking Sports Illustrated ready?
How does she pull off looking effortlessly this good for so many years?
Wearing sunscreen daily
Wearing a daily SPF, no matter the season, is not a new recommendation for maintaining healthy youthful skin but one that is often dismissed.
If there is one miracle cream for the skin, I would have to say it would be a sunscreen that blocks both UVA and UVB sun rays.
Sun rays are responsible for more than 90% of the visible signs of aging including wrinkles, discoloration, rough skin texture and loss of elasticity.
Often times patients admit they do not wear a daily sunscreen because the ones they have tried felt oily or disrupt the way makeup goes on the skin.
Sunscreens have come a long way over the years and virtually disappear into your skin. Gone are the days of feeling like a greasy mess after application.
Medical grade skin care lines, like SkinCeuticals, offer a variety of different formulations that can be customizable for your skin type: mineral, tinted, sheer, or sports are all options available.
Finding the right sunscreen for your skin type is one of the first steps in stopping the clock on aging.
Botox
Botox is a quick and easy, inexpensive way to help decrease or eliminate wrinkles on the forehead, crow's feet, fine lines around the mouth, or the visible vertical bands in the neck.
Botox is a neuromodulator that works by temporarily disrupting muscle contraction by blocking signals from the nerve. The procedure takes about 15 minutes and is minimally painful.
Small amounts of Botox is injected into areas of concern followed by application of an ice pack. It takes about 3-7 days after the injections for results to be visible with those resulting approximately 3-4 months.
Finding an experienced injector is essential to achieve natural looking results. Overtreatment with Botox can cause lack of facial expression or drooping of the brows. You want people to be thinking-how does she look so good? Not, what has she done to her face?!
Dermal Fillers
With age, we often lose volume in the mid face/cheeks, mouth area and hands. Dermal fillers are a gel like substance that are injected under the skin to restore lost volume and bring back the appearance of youthfulness.
Unlike Botox, the results are immediate and last from 6 to 24 months depending on the type of filler used.
We typically block an hour for the procedure which includes time for a topical numbing cream to be applied to the treatment area to decrease your discomfort. There is a local anesthetic, lidocaine, mixed in with the filler which also decreases discomfort during the injections.
Bruising and swelling can be expected for up to one week following your treatment, so planning accordingly to allow time for this to resolve prior to a big event is a must.
Similar to Botox, finding an experienced injector is key. When done correctly, filler can be used to soften smile lines, enhance the lips or produce the effects an overall liquid facelift. Over treatment can be costly and result in a very "plastic" looking outcome.
Laser Treatments
Laser treatments can produce astonishing improvements in your skin's tone and texture. Discoloration of the skin can occur overtime from sun exposure, hormonal changes and genetics.
Broad Band Light therapy (BBL) is a laser treatment that is only mildly uncomfortable with little to no downtime which can fade or erase discoloration or age spots in the skin.
It can also improve redness related to small blood vessels under the skin's surface, rosacea and acne. Over time, this laser treatment will help decrease fine lines and wrinkles, keeping you looking young and fresh.
ProFractional laser treatment is slightly more invasive treatment with a 3-5 day downtime but will dramatically improve fine lines and wrinkles along with smooth the texture of the skin.
This laser will stimulate your body to produce more collagen which is responsible for the plump, youthful look of younger skin. As we age, collagen production dramatically decreases which is why our skin starts to sag and lose elasticity.
Laser treatments can be an instant refresher for your skin.
IV Vitamin Therapy
What we put into our bodies is directly related to how our skin looks and how we feel. Maintaining a healthy diet full of omega 3 fatty acids, B complex vitamins and proper hydration will keep your skin looking its best from the inside out.
IV vitamin therapy is a treatment that allows you to achieve the benefits of infusing vitamins directly into the body and increasing the availability for cellular use.
It can help reduce jet lag, give your skin a healthy glow, increase your immunity and shorten the amount of time needed for muscle recovery after a workout.