The days are getting longer, the weather is getting warmer and that can only mean one thing – summer is on its way. NOVA Plastic Surgery has a broad range of options to get you summer ready, ranging from surgery to sunscreen.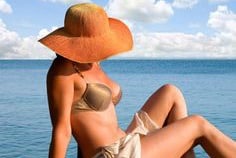 If you have contemplated surgery to tighten your tummy or give your breasts a boost, spring is a perfect time to do it! NOVA Plastic Surgery can help you get bathing suit ready in time to hit the pool this summer, feeling more confident and relaxed.
Dr. Zahir is our Double Board Certified Plastic Surgeon who will take the time to understand your goals and help you to achieve them. Why spend another summer feeling self-conscious in your bathing suit or covering up your problem areas?
Come in for a consultation and take the first steps toward a summer feeling more confident in your body!
The sun is youthful skin's worst enemy, so as you look forward to those days on the beach visit us first to get the tools to reverse and prevent the aging effects of the sun.
Broad Band Light therapy is a no down-time laser treatment that will help to treat sun spots and age spots, the tell-tale effects of long term sun exposure.
Regular BBL sessions of 4 times a year also have impressive anti-aging benefits, including improvements in fine wrinkling, laxity, age spots, uneven pigmentation and textural changes.
BBL is our most popular laser treatment and if you haven't discovered the benefits for yourself, spring is an excellent time to add this powerful treatment to your skin care maintenance routine.
It is said that an ounce of prevention is worth a pound of cure and that is perfectly applicable to maintaining healthy, youthful skin. Having a good daily skin care regimen goes a long way in defying the effects of aging.
At NOVA Plastic Surgery our Physician Assistants and Aestheticians are experts in skin care and can help you develop an effective and manageable daily skin care regimen.
We carry the full line of SkinCeuticals products, which utilizes high potency formulas and are concentrated in pure actives to optimally penetrate the skin and deliver results.
SkinCeuticals anti-aging anti-oxidant products enhance protection against environmental damage cause by free radicals while improving the appearance of lines, wrinkles and brightening the skin's complexion.
A good broad spectrum sunscreen is an essential tool to block the damaging effects of the sun. The best sunscreens use a physical block, in the form of a mineral sunscreen.
You can have the most effective sunscreen but if it doesn't feel good on, you aren't going to use it and reapply it as you need to.
SkinCeuticals sunscreens are a mineral sunscreen, providing a chemical free, broad spectrum sun block. They blend well and feel good on the skin, which means you won't mind wearing it.
If you want to go into summer feeling confident and self assured, we can help you achieve that! Make your appointment for a surgical consultation with Dr. Zahir or a skin care consultation with our knowledgeable Physician Assistants.
We look forward to helping you get summer ready!