Posted March 02, 2017 in
Face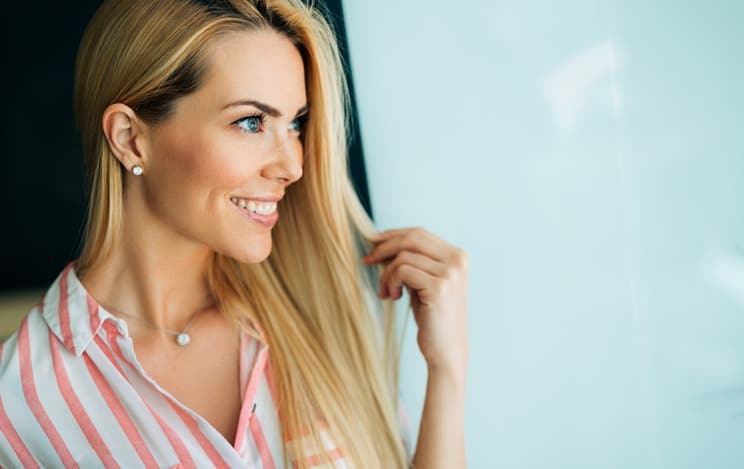 If you are looking for a non-surgical treatment that will boost your overall skin clarity, improve tone, smooth wrinkling and decrease the appearance of scars with little downtime, ProFractional laser treatment is your answer.
It is a comfortable laser resurfacing treatment with little downtime that will tighten and rejuvenate the skin while diminishing the effects of time on the skin by replenishing your own collagen production.
What can ProFractional Laser resurfacing will improve?
Fine lines and wrinkles
Skin discoloration
Skin tone
Harmful effects of sun damage
Acne scarring
Scars from prior trauma or surgery
Collagen depletion
How does ProFractional Laser treatment work?
The ProFractional laser is a new advancement in laser technology manufactured by Sciton, one of the leaders in the field. The laser precisely creates thousands of tiny micro-channels deep down into the skin which stimulates the body's own collagen production. Collagen is essential for plump, youthful looking skin.
Increasing collagen will help to smooth out fine lines and wrinkles and blend in scars from previous acne, trauma or surgery. Only a fraction of the skin is treated which allows the surrounding tissue to promote rapid healing.
Is Profractional Laser resurfacing painful?
Most patients say that resurfacing yields minimal discomfort and feels like a sunburn. Discomfort during the treatment is minimized by an application of numbing cream for about 20-30 minutes prior to the start.
A Zimmer chiller is also used which directs a steady flow of cool air at the skin being treated. Post-treatment pain is easily managed with over the counter Tylenol and cool compresses.
What is the downtime like?
Downtime will vary based on the settings used on the ProFractional laser (laser depth and percentage of skin treated) combined with your treatment goals.
A light ProFractional treatment to improve concerns like overall tone and texture may only require 1-2 days of downtime, compared to a more aggressive treatment for concerns such as acne scarring or deeper lines/wrinkles which may require 3-7 days for healing.
Your skin will appear pink to red like that of a sunburn.
You will need to apply a protective balm to the treated area a few times a day for the first few days. Once the healing process is complete, it is safe to begin using makeup again. The healing time for this treatment lasts a little over a week
It is very important to avoid any sun exposure in the first few weeks after your treatment. A zinc-based sunscreen used daily is always recommended to prevent premature aging of the skin but is also very important post-laser treatment to protect your vulnerable skin from the sun's rays.
When will I see results?
You will see an immediate improvement in skin tone and texture along with an overall tightening once the skin is healed. Results will continue to improve over the next four to six months following the treatment as the promotion of collagen production increases, filling in fine lines and wrinkles, as well as blending away scars.
Before and after photos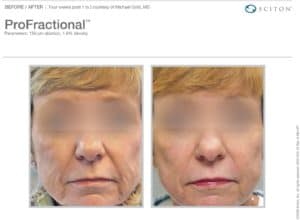 Pictured, you will find dramatic ProFractional laser results just four weeks following one treatment. You can see the reduction of fine lines and wrinkles along with tightening of sagging skin.
Acne scars can be significantly improved with a series of 1-3 treatments. As you can see below, skin tone and texture are dramatically improved.
The micro-channels created by the laser release the deep tethers that cause the pitted appearance of the acne scars.
If you are looking for a non-surgical way to improve fine lines and wrinkles, improve overall skin tone and texture, decrease the appearance of scars (acne, post-traumatic or surgical) and increase collagen production, ProFractional laser resurfacing is your answer.
At NOVA Plastic Surgery in Northern Virginia, we offer this state of the art treatment by our highly-trained Physician Assistants. For a consultation, contact us at (703) 574-2588.