Posted August 09, 2013 in
News
Rhinoplasty is commonly referred to as a "nose job." Rhinoplasty surgery involves reshaping the nose to change its size, correct bumps or indentations, adjust the tip, or correct any other irregularities.
A 27 year old female came to NOVA Plastic Surgery to find out if she would be a good candidate for the procedure. During the consultation with plastic surgeon, Dr. Nukta, they discussed the pertinent risks, benefits, and alternatives to the patient's considered procedure as well as her expectations. Plastic surgery operations have subjective outcomes which may be dependent upon patient anatomy and expectations. While a specific result cannot be guaranteed and peri-operative problems may occur, every effort will be made to deliver a satisfactory result in a safe and ethical manner.
This is an in-depth look at the procedures that were performed on the patient and the results that she obtained from her rhinoplasty surgery.
Before: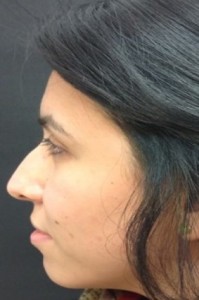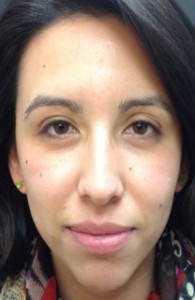 After: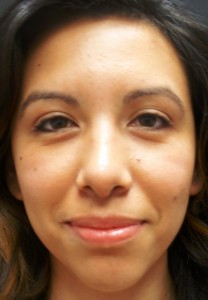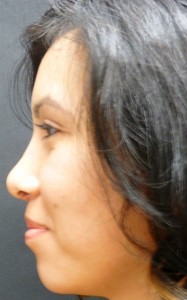 Description of Procedure:
The patient was given anesthesia and 1% lidocaine with epinephrine was injected into the nose. We then trimmed the hair of the nostrils and started by performing an open approach intracartilaginous incision. Tissue was dissected and opened. The nasal dorsum and the septum were identified. We reduced it en bloc using a double guarded osteotome in addition to the nasal bone. However, where the osteotome was taken out, we noticed that there was an additional piece of nasal bone that was fractured and was completely removed. We tailored that bone and placed it back into position after rongeuring it and rasping it to give the patient a nice dorsum. This bone was repaired to the septum with a 4-0 PDS suture. The percutaneous osteotomy was performed to close the open roof deformity and interdomal and intradomal sutures were used to give the patient a nice supratip point. Splints were applied in addition to a Doyle splint.
Recovery:
5 days after the surgery, the drains in the nose were removed and the splint was left on.
7 days after surgery the splint was taken down and Dr. Nukta noted that the nose was healing well. The splint was reapplied because the nose was not done healing.
17 days after surgery the splint was removed and discarded. The patient was instructed to wear a night guard while sleeping. The tip of the nose was still swollen but would decrease with time. Scar cream was given to the patient.
5 months after the procedure, the patient is doing great and is extremely happy with her results. She has excellent improvement in her face and Dr. Nukta will see her again in 1 year.
To schedule a consultation with Dr. Nukta, please contact our Northern Virginia office in Ashburn.