Posted June 12, 2013 in
News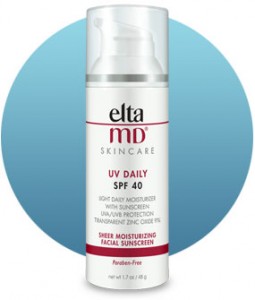 Its summer! Which, for many of us, means fun in the sun. Its time to work on our tans, soak up some Vitamin D, and breathe in the fresh summer air. But as you are enjoying the sun, dont neglect your skin.
Our beloved sun is one of the biggest contributing factors to aging. When we expose unprotected skin to the sun, it becomes dehydrated and dry. Wrinkles and expression lines begin to appear around our eyes, lips, and on our brow and age spots may start to appear or get bigger.
The first line of defense in maintaining young, healthy-looking skin is using sunscreen.
Daily application of sunscreen is an essential part of your skin care routine. At NOVA Plastic Surgery we carry a variety of EltaMD sunscreen products for every skin type. EltaMD sunscreens contain zinc oxide, which is the only single ingredient that offers both UVA and UVB protection. They are hypoallergenic and do not contain oxybenzone or parabens. You can purchase EltaMD at our offices in Ashburn and Haymarket.
If you have already noticed premature aging and are concerned about your skins appearance, our office has many cosmetic, both surgical and nonsurgical, options for improving your appearance. Botox, dermal fillers, and laser resurfacing are very popular nonsurgical procedures that take very little time, require little to no recovery, and can give you great results. Another added benefit of nonsurgical procedures is that they are much less expensive than their surgical counterparts.
Even if you have already neglected your skin, its never too late to start taking better care of it. Using sunscreen on sunny and overcast days will protect your skin from aging and cancer. Additionally, a nonsurgical cosmetic procedure can help turn back the clock and improve your skins appearance.
This summer, before you head to the beach or even leave the house to run errands, remember the sunscreen. In the long run, youll be happy you did.