Posted February 22, 2012 in
News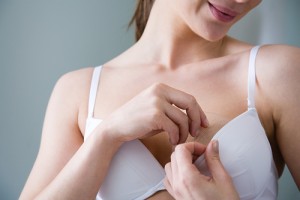 When getting a consultation for breast augmentation, its important for a patient to be able to visualize her post-operative appearance as accurately as possible. To facilitate this, Dr. Nuktas office has begun using the state-of-the-art Mentor Volume Sizing System.

This is a brand new sizing system that gives the patient a more accurate visual of her breast size after augmentation. Many cosmetic surgeons offices simply insert a regular implant into the patients bra- but regular implants just flatten the tissue. The profile is not necessarily true to how the patient will look after surgery.
The new Mentor Volume Sizing System features silicone elastomer sizers that are shaped to fit snugly over the natural contours of the breast. Since the sizers are shaped in that way, they can give the patient a realistic idea of what her post-operative volume will be.
The sizing system has 18 sizers that range in volume from 150 cc to 650 cc, along with filler sizers in smaller increments (50 cc, 75 cc, and 125 cc). The combination of sizers and fillers allows the patient to experiment with 24 different breast implant volumes, ranging from 150cc up to 775 cc.
No sizing method for breast augmentation is perfect, but the Mentor Volume Sizing System is the most up to date technology available. Having this sizing system will allow patients to make a more informed, confident decision in regards to selecting an implant size. An accurate sizing system can also cut down on the rate of revision procedures.
Dr. Nukta couples the sizing system with our state-of-the-art 3D simulator– a pairing of pre-operative tools that gives the patient the tools to decide which implants will create the most desired profile. The sizing system and the 3D simulator are routine steps in our consultation process.*
Visit our breast augmentation page to see 3D animations, before and after photos, read FAQs and more.
If you're interested in coming into our Northern Virginia plastic surgery practice for a consultation, call (703) 574-2588 or click here to set up a consultation.
Follow us on Twitter @NOVAPLS, and like our Facebook Page!
*Breast augmentation is for healthy patients. Always consult your plastic surgeon before making a decision about a procedure.