Posted February 29, 2016 in
News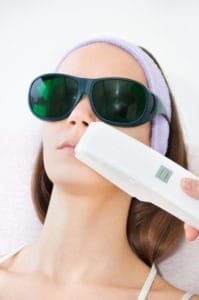 Laser hair removal is an ideal way of improving the way your skin looks and feels. There are various types of removal methods available. However, some methods are more effective than others. Before selecting any method for laser hair removal, focus on your investment, your budget, your desired outcome, and the most effective products available.
Finding Laser Hair Removal Services
When considering hair removal laser methods, many people believe these services are hard to find or limited available. That's not the case. You can find high-quality services in most areas.
That's important to know because this service has become highly effective and desired by people of all walks of life. As a direct result, there is no reason to put off getting it.
But, can you do it at home?
At home laser hair removal is an option for some people. These at home products work in a similar method as traditional laser hair removal services.
A high-level laser is focused specifically on the follicle producing hair. Enough heat is applied to damage the follicle and therefore, limit the follicle's ability to produce hair.
At home laser hair removal involves the use of a hand-held laser device. The individual applies the laser on the skin at the location of the follicle and triggers the mechanism to apply the laser light.
Are these solutions effective? There are a few key things to keep in mind when selecting any type of laser hair removal including at home models.
Learn Before You Buy
Not all over-the-counter products are the same. Before purchasing any of these at home tools, be sure you've done the research to ensure the product you plan to use is the most effective and is worth the investment. Read customer reviews of these products carefully.
Onsite Hair Removal Is More Effective
If, on the other hand, you come in to a provider for your laser hair removal service, you'll have a number of key advantages:
A skilled technician is on hand while providing the service to you. If any laser hair removal side effects begin to occur, which can also happen with at home products, your technician is there to apply the right treatment to reduce risks.

The technician has experience – and that really does matter. This can help to ensure the process is more effective as well as more efficient. In other words, you get the results you want using a skilled technician.

Being more effective, the process may be less time consuming. This may mean that you can be hair-free faster. At-home products are inconsistent. You could spend six months to a year trying to perfect the results and never reach it. Patients need an average of 4 to 6 treatments from professionals. Each treatment can be done every 4-6 weeks for the face and 6-8 weeks for the body (except the legs). In the long term, technicians are consistently successful.
In short, using a professional with ample training is more effective, less expensive, and less time-consuming than trying to do the process yourself.
Should You Buy At Home Laser Hair Removal Products?
Before you make the decision to invest in these sometimes expensive products, schedule a consultation with a local provider.
You can find laser hair removal Loudoun County professionals available to answer all of your questions and to give you an honest, solid consultation about whether this hair removal method will work for you, what to expect, and just how affordable it can be.
If you find that at home laser hair removal is effective for you, then take advantage of this opportunity. You will appreciate having hair-free skin that you don't have to think twice about when you slip on a dress or a pair of shorts.