Posted April 27, 2020 in
Skin
In order to help you and your family stay safe during this pandemic, you must practice good hand washing hygiene. In Loudoun County, we are doing our best to flatten the curve and take preventative measures. However, increased soap and handwashing, coupled with cold weather can wreak havoc on your skin! Do you have dry, cracked skin and maybe even bleeding knuckles? You could be allergic to your soap, it could just be irritating your skin, or you could have a condition called atopic dermatitis or eczema. If you have eczema, then you need to be extra careful with all the handwashing and sanitizing required during this pandemic. Your hands could be a mess for weeks if you aren't taking the proper care now. Our Dermatology Physician Assistant, Morgan Klein, has advice on how to protect your hands during the Covid-19 Pandemic.
What can you do at home to help heal your hands and give you nice soft skin? Follow these 3 steps:
Step One: Wash Your Hands with the Right Soap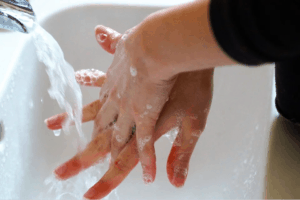 First- you need to stop using harsh soaps, like antibacterial soaps. They are way more drying to your skin than Dove, Cetaphil, or CeraVe. Purpose Soap is another good one. All of these are made for sensitive skin. Now, Dove may have some fragrance, so if you know you are allergic to a specific ingredient you may need to stay away from certain versions. It is not enough to just assume you are safe if you see the words "Fragrance-free" or "unscented". Those terms are not FDA regulated, so still check the labels to make sure there aren't any hidden ingredients that you are allergic to.
Wash your hands for 20 seconds with the gentle soap or non-soap alternative. Then pat them dry so your hands are still just a little damp. The next step will lock in that water to help protect your hands more.
Step Two: Moisturize!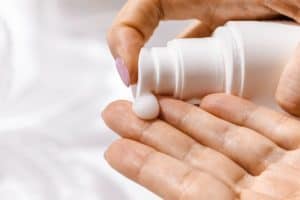 When your hands are cracking and bleeding, then the greasier the better! Petroleum jelly is super cheap and very effective. It doesn't have alcohol in it, so it won't burn. SkinCeuticals Hydra Balm is extra soothing because it has added aloe extract and rose hip oil as anti-inflammatories and they also help to hydrate the skin.
During the day, however, this may not be the most practical product to apply. If you are working from home, you probably need to type on your computer or make phone calls and you don't want to be getting greasy Vaseline all over your stuff. One solution is to use a heavy hand cream instead. SkinCeuticals Neck, Chest & Hand Repair  is a great option for restoration. Other moisturizers by Cetaphil, CeraVe or Vanicream are also good alternatives for during the day. At bedtime, or if you are just hanging out watching Netflix or Disney+ or something, then get greasy with the Vaseline, Hydra Balm or Aveeno Cracked Skin relief and put on some cotton gloves! These things are great! You might look like a mime and your kids or significant other may tease you, but let me tell you, my tired dry hands feel so much better in the morning when I sleep with these on all night. You can use cotton socks if you don't have cotton gloves, but the gloves are a little easier to wear while doing other things.
Step Three: Prescriptions for Hand Eczema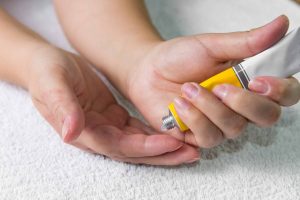 If your hands are really bad and moisturizer and gloves aren't enough, then you may need a prescription ointment to help. While we are away from the office we can schedule you a virtual consultation with our Dermatology Physician Assistant, Morgan Klein. You can apply your prescription twice a day, once in the morning and once before bed, right on top of your moisturizer. Topical steroids are typically used first until the rash is under control and then there are other topicals that have no steroid that are also anti-inflammatory for maintenance. You cannot use steroids all day every day. Long term use can thin out the skin so  you will need to take breaks. When you are taking a break, you can switch to either plain moisturizers or other non-steroidal anti-inflammatory prescriptions depending on how bad your eczema is.
Eczema is a chronic problem. We cannot cure it but we might be able to make it go away for some time. It will come back and then you must use the treatments again. Now, if we give you treatments and they aren't working AT ALL, then maybe you need something stronger or maybe you have something that just looks like eczema but is something else. So, just as with any medical condition, if it does not seem to be improving the way you and your provider are expecting it to, then you need to go back for a re-evaluation and maybe some other testing or other treatments.
If you are worried that your hands are suffering from repetitive handwashing, call NOVA Plastic Surgery and Dermatology or schedule online for an appointment with our Dermatology provider to evaluate your skin. During this Covid-19 Pandemic we are offering virtual consultations with our Dermatology Physician Assistant who can evaluate your skin and provide you with a specific treatment plan.