Posted March 20, 2023 in
Face
3 Minute Read:
Facial redness can be caused by sun damage, blood vessels, acne, dry skin, rosacea, and aging skin. This discoloration can be irritating (causing you to itch) as well as embarrassing.
But rather than "learn to live" with facial redness and the physical and psychological effects of the concern, why not correct the problem at its root?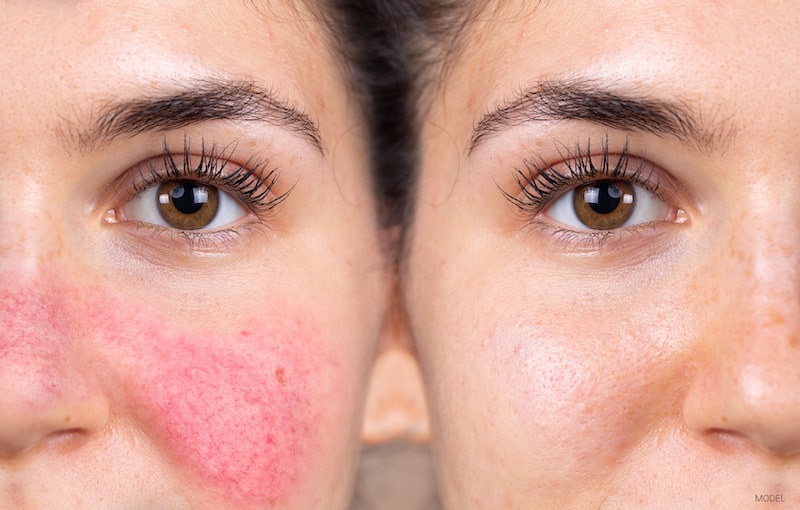 Various cosmetic treatments are available to help clear your skin of redness so that you can feel more confident with how you look.
How to Correct Facial Redness
Multiple factors cause facial redness; because of this, there isn't a one-size-fits-all treatment. Dr. Nukta and the specialized team at NOVA Plastic Surgery and Dermatology offer three different options that can help you achieve clearer facial skin.
Below, you'll find some information about these three options. During your consultation, one of our knowledgeable skin care specialists will evaluate your condition to determine which of the following treatments is best for you.
HydraFacial® MD
The HydraFacial® MD procedure consists of three different levels of treatment, including exfoliation, hydration, and replenishment.
This painless treatment can help to relieve facial redness, as the upper skin layer is gently removed (exfoliation) and impurities in the skin (including dead skin cells and environmental debris) are extracted.
The new layers of skin are cleansed and nutrients are administered to the skin to help it look as fresh and healthy as possible.
BroadBand Light Therapy
BroadBand Light therapy (BBL™) is a non-invasive, non-surgical laser treatment that uses intense pulsed light (IPL) technology to heat the deeper layers of the skin (without harming skin tissue).
This process helps to correct blemishes on the face, such as skin redness, by increasing the production of collagen. Not only can this treatment option clear your skin of discoloration, but you can also achieve healthier, smoother, and tighter skin after your BBL™ treatment.
Medical-Grade Skin Care Products
To ensure that your skin remains nourished and clear after your HydraFacial® or BBL™ treatments, you should be using medical-grade skin care products, like the Redness Neutralizer from SkinCeuticals, which helps to clean and moisturize your skin.
By including these products in your skin care routine, you can minimize redness on the face while promoting the overall health and beauty of your skin.
And what's even better is that you are helping your skin from the comfort of your own home.
Keep in Mind
HydraFacial® MD and BroadBand Light Therapy can help to give you the clear and healthy skin that you desire; however, the results from these treatments are not permanent.
You should undergo a HydraFacial® MD treatment every four to six weeks due to your skin's natural cycle. As for BBL™, we recommend that you undergo a laser treatment once or twice a year.
Want to Learn More?
If you struggle with facial skin redness, contact NOVA Plastic Surgery and Dermatology today. Our team of skin care experts will help you look and feel your absolute best. Schedule your consultation today by calling (703) 215-9152, or you can use our online contact form.