Posted March 29, 2013 in
News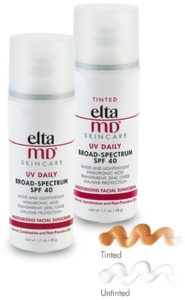 We are thrilled to offer our patients an exciting medical-grade sunscreen line and skin care products from EltaMD!
Sunscreen is an essential part of everyones skin care routine- especially patients who have recently had a cosmetic procedure. The skin of an incision or scar is new, and therefore more fragile and sensitive to the harmful UVA/UVB rays of the sun.
Without protective sunscreen, a scar will darken considerably in reaction to sun exposure and will end up darker and more noticeable than the surrounding skin.
Even if you havent recently had a cosmetic procedure, you need to vigilantly protect your skin from the sun. Sun exposure can lead to skin cancer, fine lines and wrinkles, and the early degradation of elastin and collagen in your skin (the proteins that keep the skin firm). Guarding your skin from the sun is the first step in maintaining a youthful look.
UV Aero Broad-Spectrum SPF 45 offers UVA/UVB protection and is water-resistant for up to 80 minutes. The easy-to-use zinc oxide formula sprays on white so you dont miss any spots, and dries clear. It is oil-free, paraben-free, fragrance-free, and great for sensitive skin and children.
$29.50
UV Sport Broad-Spectrum SPF 50 offers UVA/UVB protection with a 9% zinc oxide formula. It can be used on wet or dry skin (great for swimmers and other outdoor athletes), is safe for children, and is water resistant. This formula is also fragrance- and paraben-free.
$20
UV Daily Broad-Spectrum SPF 40 has UVA/UVB protection with a 9% zinc oxide formula in a light daily facial moisturizer. It can be used alone or with makeup, and is quickly absorbed by the skin. The product also contains hyaluronic acid to decrease the appearance of fine lines and increase skin smoothness. It is fragrance- and paraben-free.
$24
PM Therapy Facial Moisturizer is an overnight moisturizer that repairs and rejuvenates skin while you sleep. It contains ceramides, which strengthen the moisture barrier of the skin. Antioxidants in the formula improve and even out skin tone while rice protein peptides stimulate cell growth and improve collagen formation, which in turn improves skin elasticity. The skin will look more even, more rejuvenated, and have a decreased appearance of fine lines and wrinkles. It is safe for all skin types.
$30
Laser Balm is a powerful moisturizer designed to ease recovery after CO2 or Erbium laser treatments, or after dermabrasion. After these procedures, you can experience some dryness or tightness, and EltaMD Laser Balm soothes those affects. It helps to strengthen damaged skin and moisturize the newly exposed skin. It is preservative free and safe for sensitive skin.
$20
We carry a sunscreen option for everyone! Feel free to pick up any of these products at your next visit to our office. If you have any questions, give us a call at (703) 574-2588!