Posted September 03, 2019 in
Body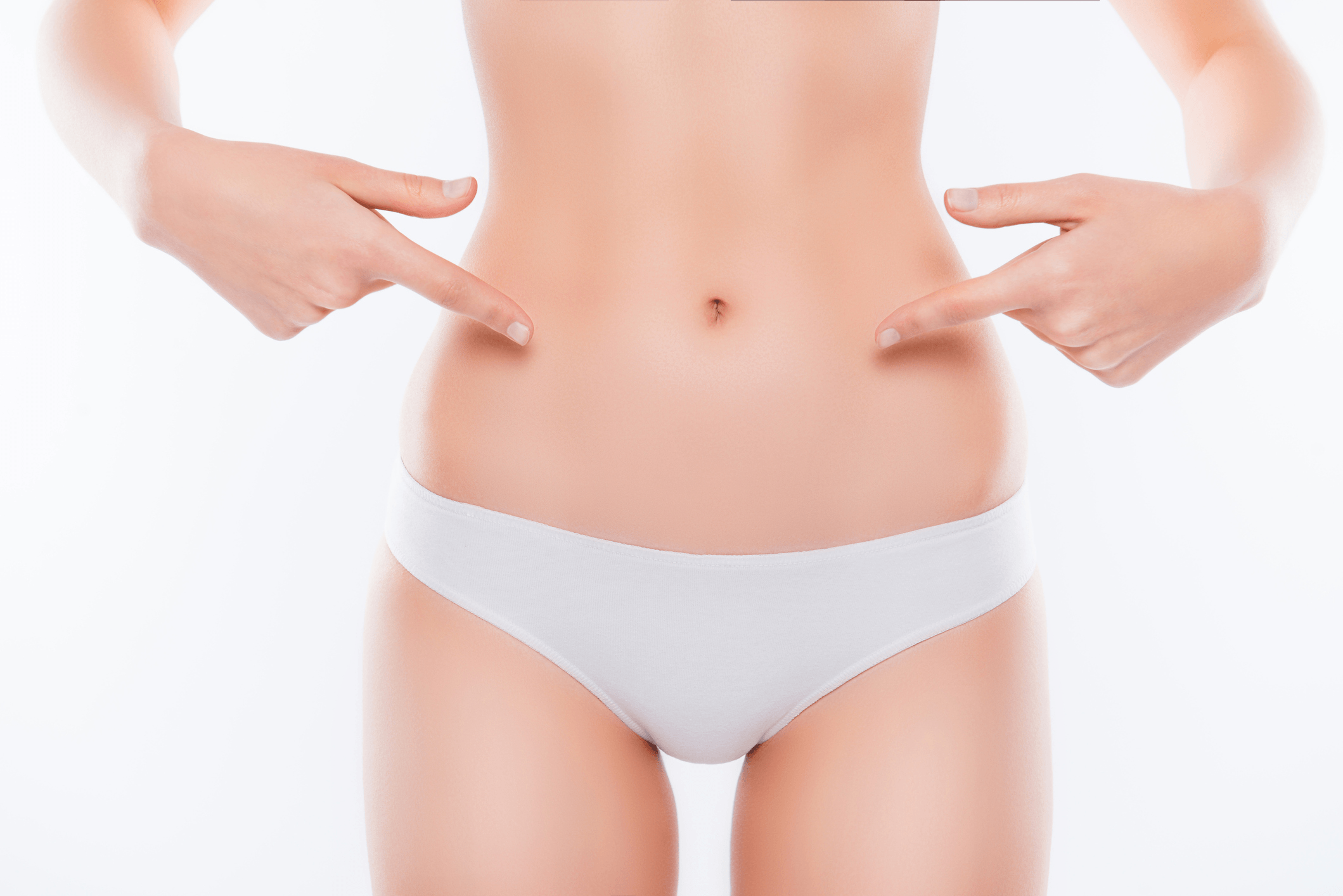 Are you like many who have put themselves and their bodies on the back burner while caring for children, family, and other responsibilities? Did you wake up one day and realize you really need to focus on and take care of yourself? If you're missing the way your body used to be and feeling frustrated by not getting the results you want from diet and exercise alone, CoolSculpting® could be the right choice for you.
What Is CoolSculpting?
You've probably heard of CoolSculpting®by now. The idea for CoolSculpting came from scientists who noticed that children who ate popsicles got dimples in their cheeks. These Harvard-based scientists went on to figure out a way to achieve the fat cell elimination they saw in the kids with popsicles via a technique that could be used on other targeted parts of the body, ultimately creating cryolipolysis, the medical term for the procedure.
The CoolSculpting procedure is defined on their website as being FDA-cleared for the treatment of visible fat bulges in the submental (under the chin) and submandibular (under the jawline) areas, thigh, abdomen and flank, along with bra fat, back fat, underneath the buttocks (also known as banana roll) and upper arm. It is also FDA-cleared to affect the appearance of lax tissue with submental area treatments. The CoolSculpting procedure is not a treatment for weight loss.
How Does CoolSculpting Work and What Does It Feel Like?
CoolSculpting is a safe and effective way to transform your body without damaging the skin or surrounding tissues. The procedure is innovative and noninvasive, does not require anesthesia, and has no downtime. There are no needles and no incisions.
This technique effectively reduces fat in targeted areas of your body, but in a gentle way that allows you to go back to normal activities immediately—you can even read or check email during the procedure! Best of all, the result is noticeable and natural-looking fat reduction in the targeted areas.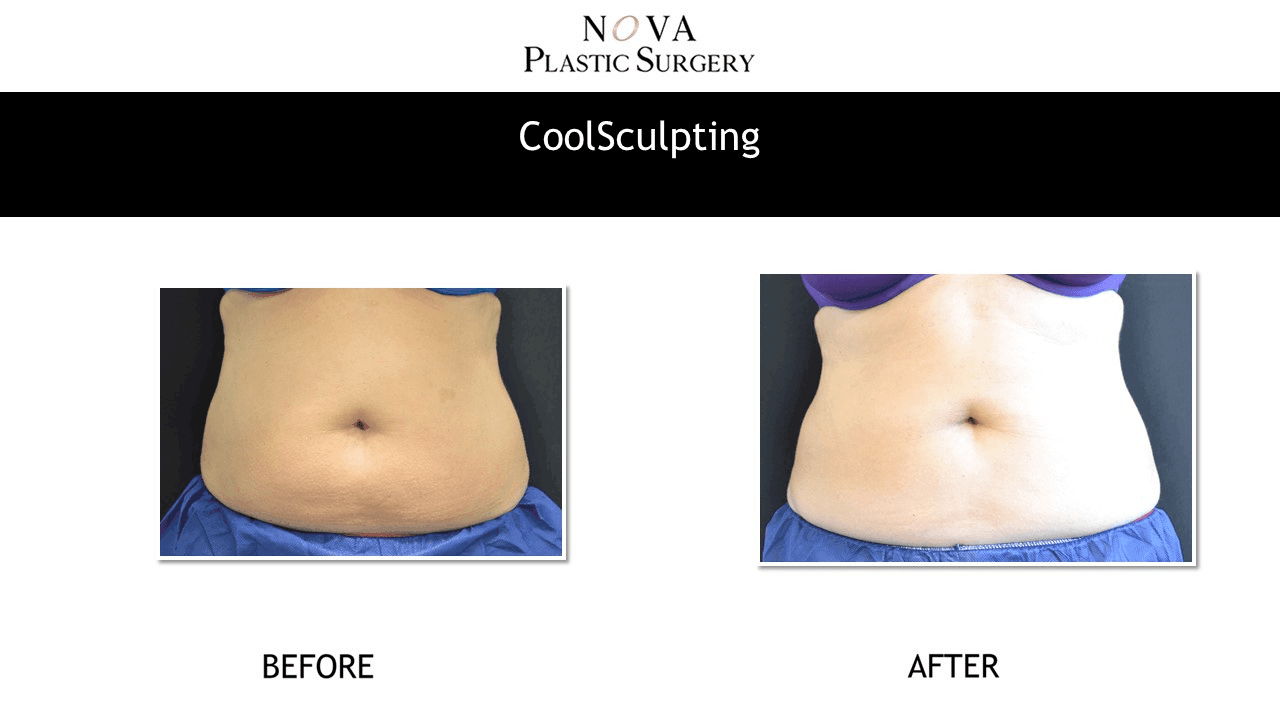 Procedure lengths vary depending on the areas being targeted, but a typical procedure takes about 35 minutes. A gel pad and vacuum applicator is placed on your skin. You will feel a cooling sensation that lasts 5-10 minutes as the skin numbs, and then the targeted fat is cooled and destroyed. The vacuum applicator pulls tissue and skin from the targeted area into the applicator cup, so you may experience some mild tugging, pulling, or pinching sensations.
What Kind of Results Can I Expect?
Because everyone's body is unique, NOVA Plastic Surgery tailors your treatment plan specifically to you during your initial consultation. Our CoolSculpting clinician will ask you about your goals and what you would like to achieve, and together, you will create a body transformation plan that will work for you.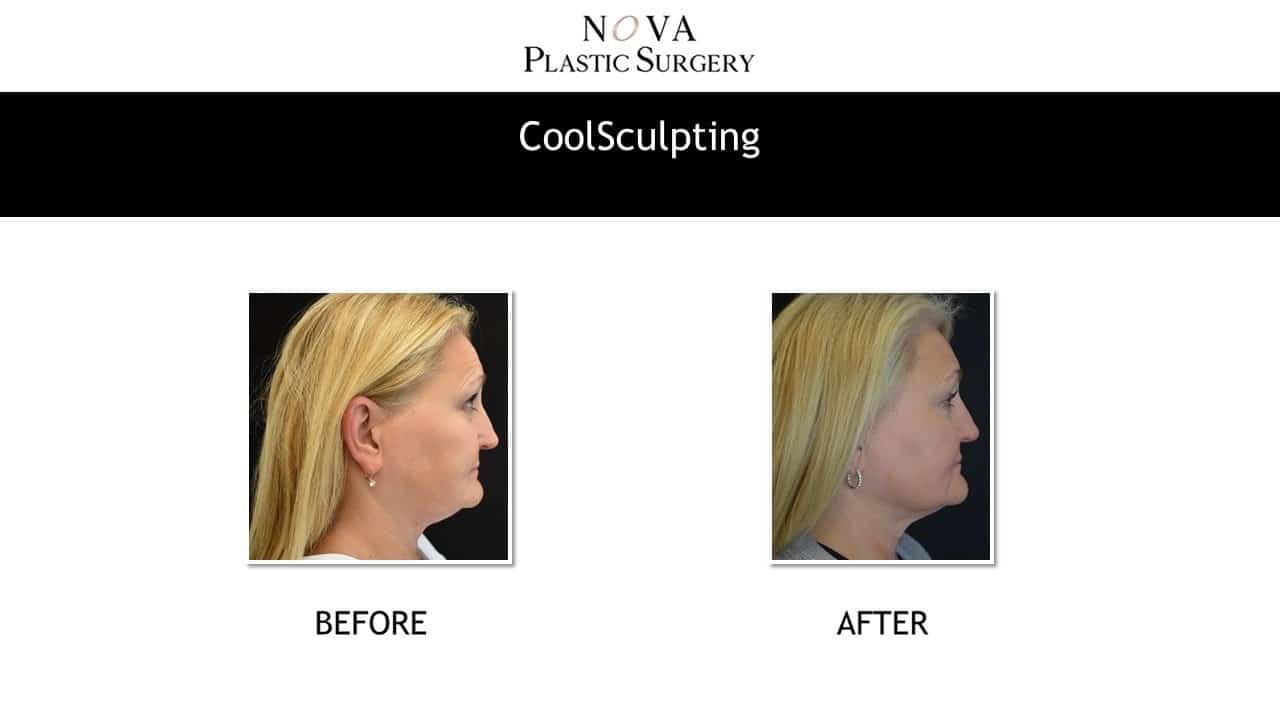 As you can see, the results are noticeable and natural, without looking too dramatic or appearing to be a drastic change. Our clients maintain a very similar but improved appearance after the procedure.
Research has shown that patients who undergo CoolSculpting achieve 15-29 percent fat reduction in targeted areas. Every patient who receives this procedure experiences unique results, but in general you will begin to see improvement as soon as three weeks, and the most dramatic change will be apparent within three months of the procedure.
Who Is a Good Candidate for CoolSculpting?
CoolSculpting works best for areas of your body where you have enough skin and tissue that it can be pulled off your body and held between your fingers (the way that it will be suctioned into the vacuum cup in the procedure). CoolSculpting will work to eliminate the fat cells in those areas.
Common areas targeted include the abdomen, inner and outer thighs, arms, flanks, bra rolls, and banana rolls.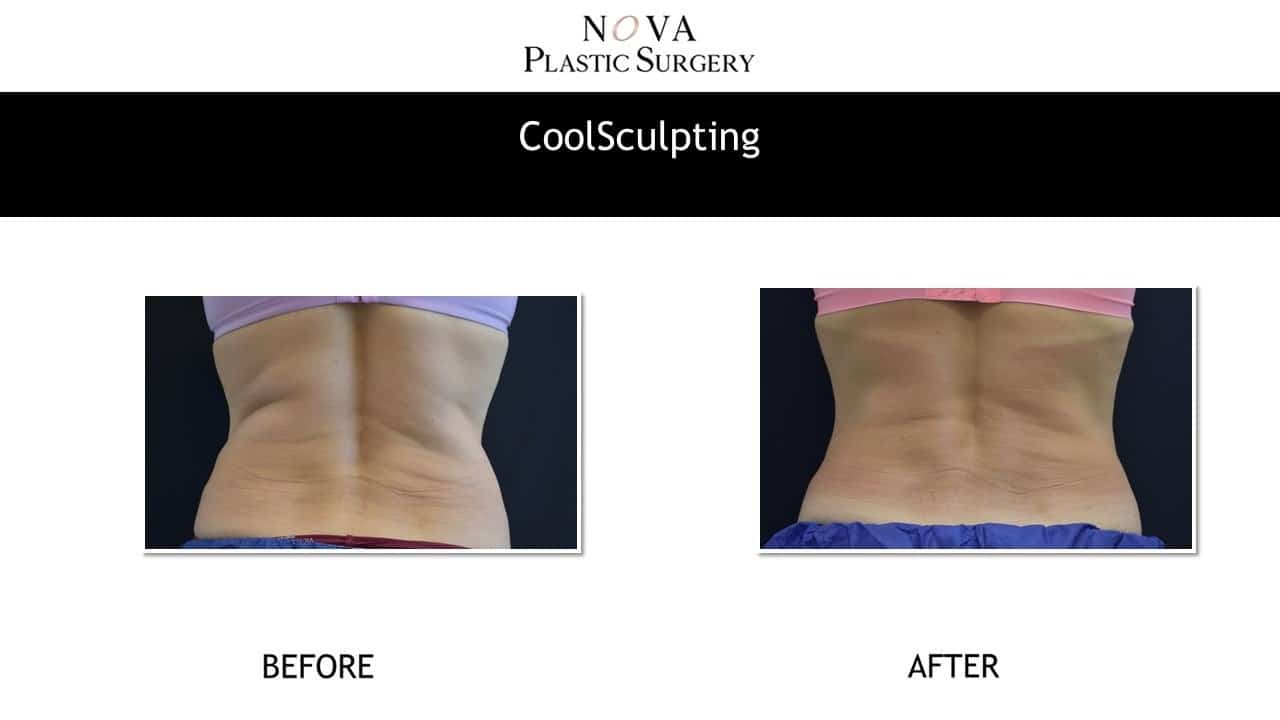 CoolSculpting is not a weight loss procedure. However, it is a less expensive, lower-risk alternative to liposuction for the hard-to-eliminate areas of unwanted fat.
Why Choose NOVA Plastic Surgery for My CoolSculpting Procedure?
NOVA Plastic Surgery is the trusted expert in CoolSculpting in Loudoun, Ashburn, and the Northern Virginia areas. Our highly experienced and professional team of plastic surgeons, CoolSculpting clinicians, and staff is ready to help you achieve your body transformation smoothly and quickly.
We are looking forward to supporting you in your process of taking care of yourself. Book your appointment now or call 703-574-2588 to speak to a qualified staff member. We are ready to answer your questions!