Posted March 08, 2016 in
News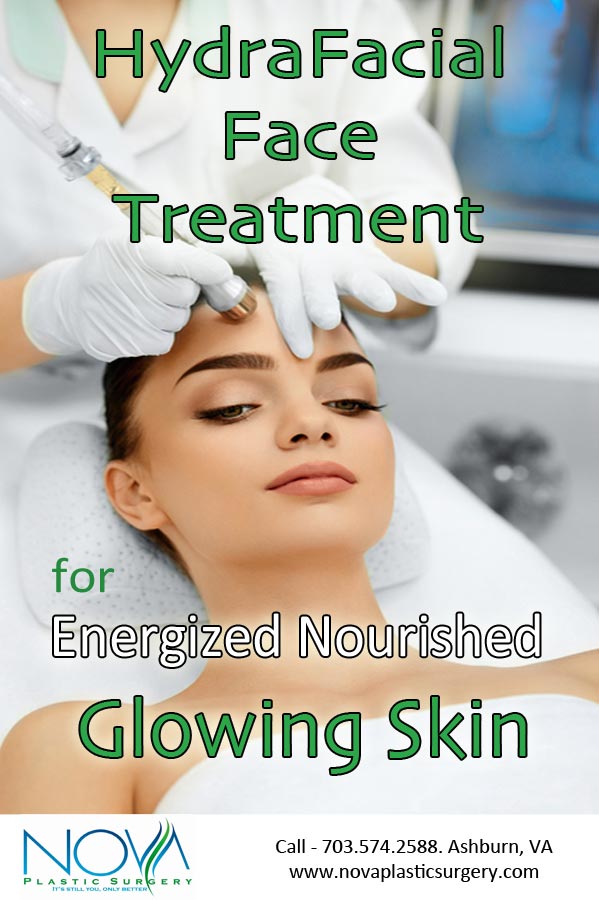 Do you have dry skin that never seems to feel hydrated no matter what you do?
Does your skin still look dull even though youre doing your daily cleansing routine?
Do you seem to have a few more blemishes and breakouts occurring than usual?
These are all signs that your skin needs a deep cleansing Hydrafacial face treatment to energize, nourish and revitalize your glow.
Things that affect your skin that you probably didnt know about
Every single day your skin is affected by any number of things.
From the moment you step outside in the morning, your skin is exposed to the environment – wind, sun, UV rays, pollution, toxins – all of which provoke free radicals (unstable cells) that cause damage to the skin that we dont see.
Then theres the things we eat – our skin needs nutrients and antioxidants from healthy foods to help supply vitamins and minerals for healthier skin. For example, foods rich in vitamin C help collagen production. Whereas, too much refined sugar intake produces more free radicals and contributes to more rapid aging.
Then theres exercise too – we need to move to get blood flowing around our body to help our skin open up pores and sweat out toxins, and to provide more nutrients to the skins surface. The skin is affected by any number of things because it is one of the human bodys largest organs, which is quite fascinating.
Why Daily Cleansing Is Not Enough
Using cleanser and soap are good ways to keep your face clean and cleansed but they simply dont go deep enough. While we need to do our daily cleansing routine, we are only cleaning the surface of the skins pores.
This is where HydraFacial face treatment comes in. Its really just a very deep form of facial cleansing that can restore nutrients, moisture, and function to your skin.
The HydraFacial face treatment not only works to detoxify skin, clearing away daily wear and tear, but also to replenish the skin with much needed antioxidants to revitalize and protect it.
Natural Nutrients to Restore Energy and Nourishment to Skin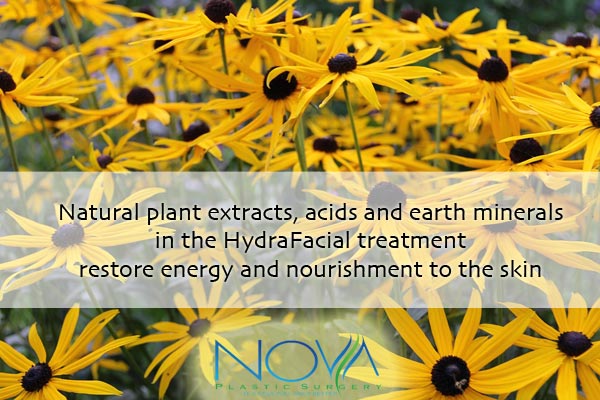 The HydraFacial face treatment provides a range of natural nutrients including:
Honey extract
Algae extract
Yeast extract
Spirea ulmaria flower extract
Horse chestnut seed
Green tea extract
Arnica flower extract
Hyaluronic acid
Salicylic acid
Lactic acid
Glycolic acid
Earth mineral peptides
All of these incredible nutrients penetrate the skin, reduce free radical and deeply nourish the skin also.
Actions of the HydraFacial Face Treatment Nutrients
All of the above nutrients amplify the effects of the treatment in 3 different ways:
1. Antioxidants
By increasing the availability of antioxidants the skin can rapidly deal with free radicals, increasing your skins cell defense and boosting your skins cell repair. Antioxidants are your skin's protectors, fortifying cells by trapping and containing free radicals and boosting your skin's cell function.
2. Peptides
Peptides are links of amino acids that boost collagen and elastin production, which helps make your skin more supple and smooth, reducing the appearance of fine lines and wrinkles.
3. Hyaluronic Acid
This acid is naturally produced by the body and gives your skin its volume and fullness. A lack of hyaluronic acid can decrease the elasticity of your skin. The HydraFacial face treatment uses key acids to help plump and hydrate your skin on a very deep level.
People LOVE the HydraFacial Face Treatment
The HydraFacial face treatment is suited to all types of skin and can be adjusted to suit your individual skin condition. This is one of the reasons people love it.
Another reason is that the treatment can be used regularly. Depending on your individual skin needs, you can set a schedule weekly, biweekly or monthly.
And of course, best of all is that the HydraFacial face treatment just makes your skin feel absolutely amazing!
What People Say About Our HydraFacial Treatment
Heres what people from Twitter and Facebook have to say: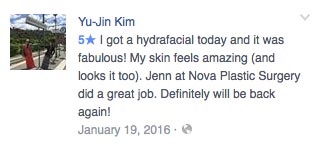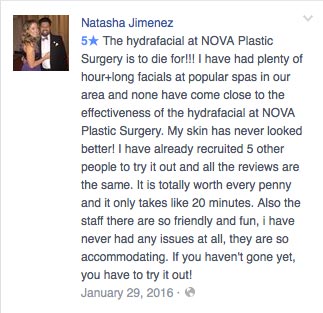 If you want to treat that dry skin, those blemishes and breakouts, or just improve the health of your skin, the Hydrafacial treatment is one of the most effective treatments you can use.
To schedule a HydraFacial treatment with us Call – 703.574.2588 – let's give you an energized healthy nourished glow!