Posted March 21, 2016 in
News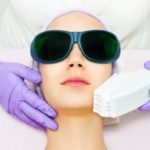 Laser hair removal is gaining popularity among women (and men) of all ages. Even people who have never considered it before are beginning to think longingly about the potential benefits that laser hair removal has to offer, but what areas of the body can really be effectively treated by the laser hair removal process?
The more you know about the process itself and who the ideal laser hair removal candidates are, the better you'll be able to determine whether or not laser hair removal is a good choice for you.
---
Who are Ideal Laser Hair Removal Candidates?
You might be surprised to learn that there are many parts of the body where laser hair removal is highly effective. Of course, there are a few caveats to consider first. The major caveats being that your hair needs to be darker than the pigment of the skin in the area being treated.
Once of those caveats is this: tanned women with very fine blonde hairs on their arms may not find laser hair removal to be as effective as women with pale skin who have hair that is darker in color than their skin. Coarse hair is an excellent candidate for laser hair removal as is hair that is dark in color.
People who have grey, white, blonde, or red hair lack the dark pigmentation that is necessary for successful laser hair removal. This makes people with these hair colors less than ideal for this type of treatment.
---
Most reputable laser hair removal professionals will conduct a consultation before beginning to inform patients about the procedure, risks, benefits, and expected outcome.
He or she will take this opportunity to assess whether or not patients are a good candidate for the procedure or likely to get their desired results from it.
---
What Body Parts Can Laser Hair Removal Target Effectively?
Now that we have defined ideal candidates, its time to explore the locations where hair removal can be most effective. Each of the following areas of the body can be the target of a highly effective laser hair removal experience for those who present as good candidates.
Full Face

Ears

Upper Lip

Chin

Neck

Arms

Underarms

Chest

Abdomen

Bikini Line

Brazilian

Legs
---
The costs of laser hair removal will vary according to the part of the body targeted for treatment. There are things you can do that will help to mitigate your costs, making the process a more affordable option.
Ultimately the final price will depend on numerous factors including the target area, number of sessions, and discounts offered by the practitioner.
---
Some salons offer packages that feature one or more areas or that combine areas. Others offer discounted rates for partial areas. You may find the occasional salon that offers multiple session packages at a discounted rate as it generally takes several sessions to get the desired results from laser hair removal.
While the costs of laser hair removal may seem prohibitive at first, many feel that laser hair removal is more cost-effective, in the long term, than waxing.
---
How many Sessions are Necessary for Laser Hair Removal candidates?
Laser hair removal will rarely be a one and done event. It takes several treatment, generally at least three to five treatments (depending on the size and scope of the particular area) and then annual touch-ups afterwards to have effective and lasting hair removal.
If you're looking for laser hair removal in Northern Virginia, schedule your consultation at NOVA Plastic Surgery today to start your journey to a life with no more shaving, waxing, or unwanted hair.
---